Image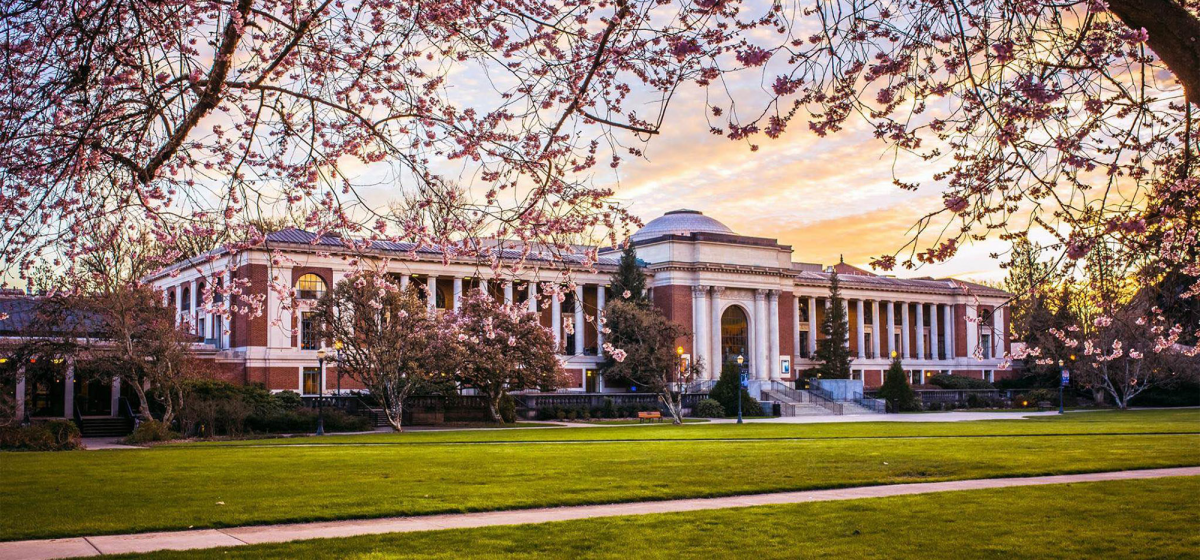 The meeting will take place Monday - Wednesday (March 27-29) within the normal business hours of the Pacific Time Zone. This meeting will be a hybrid meeting where attendees can attend in person or via Zoom during our recorded science talks, invited guest speaker presentations, and panels.
The main meeting sessions will be held in the Memorial Union at Oregon State University. The street address for the Union is 112 Memorial Union, Corvallis, OR 97331.
On-Site Information
For those attending in person, here are some useful guides for navigating Oregon State University's various offerings:
Lunches will be catered at the Union each day of the conference.
Our Conference Banquet is on Tuesday Evening at The Vue, down the street from the conference hotel. Hors D'oeuvres and cash bar will open at 6:00PM with dinner starting at 7:30PM.
Travel Information
Oregon State University's Office of Admissions has a fantastic resource detailing traveling to campus from anywhere in North America. You can view all of the relevant information here.
Most folks will be flying in through the Portland International Airport (PDX) which is roughly 96 miles from Corvallis (roughly 1 hour and 38 minutes depending on traffic). It is suggested that groups of attendees organize with either rental car companies or the University's recommended shuttle service, Groome Transportation.
While in Corvallis, you are welcome to use the fareless public transit to navigate the city. In addition, all visitors may utilize the fareless Beaver Bus campus shuttle to navigate around OSU's campus.
Hotel Information
A block of rooms has been set aside at the Courtyard Marriot - Corvallis (400 SW 1st Street, Corvallis, OR 97333) for March 26th to 29th, 2023. The nightly group rate is $169 (plus tax). The last day to book within this room block is March 2nd.
You can book your room by either:
Phone: Call 541-753-0199 and ask for a room under the "NANOGrav Phyics Frontiers Center" block.
Travel to the Memorial Union is quite straight forward. You can either walk (~20 minutes) or use the free public transit (~13 minutes). You can find more route options here.
Image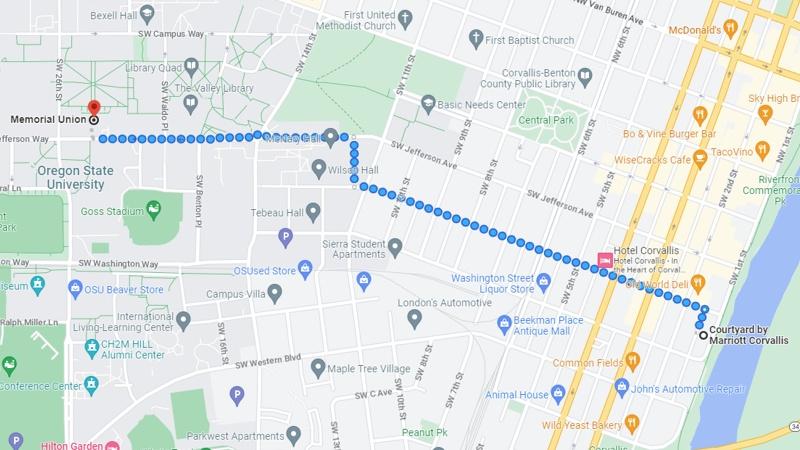 Registered Attendees
| | | |
| --- | --- | --- |
| Nikita Agarwal | Gabriella Agazie | Akash Anumarlapudi |
| Venus Aradhya | Tiahra Aviles | Jeremy Baier |
| Bence Becsy | Laura Blecha | Adam Brazier |
| Paul Brook | Rand Burnette | Robin Case |
| Andrew Casey-Clyde | Maria Charisi | Tyler Cohen |
| Neil Cornish | Thankful Cromartie | Kathryn Crowter |
| Megan DeCesar | Dallas DeGan | Paul Demorest |
| Heling Deng | Lankeswar Dey | Ian Diaz |
| Timothy Dolch | Graham Doskoch | Justin Ellis |
| William Fiore | Gabriel Freedman | León García |
| Emiko Gardiner | Kyle Gersbach | Deborah Good |
| Kyle Gourlie | Lydia Guertin | Jeffrey Hazboun |
| Ross Jennings | Aaron Johnson | Andrew Kaiser |
| Ryo Kato | Anala K. Sreekumar | Luke Kelley |
| Tonia Klein | Pratik Kumar | Magnus L'Argent |
| Nima Laal | Michael Lam | William Lamb |
| Bjorn Larsen | Joseph Lazio | Holly Legleiter |
| Natalia Lewandowska | Tingting Liu | Georgia Lowes |
| Dusty Madison | Rae Mailly | Isidel Martir |
| Ashley Martsen | Margaret Mattson | Alex McEwen |
| Patrick Meyers | Andrea Mitridate | Phia Morton |
| David Nice | Stella Ocker | Vanelie O. Encarnación |
| Ken Olum | Peter Orndoff | Polina Petrov |
| Nihan Pol | Henri Radovan | Scott Ransom |
| Trevor Rarick | Hailey Richter | Natalie Rodgers |
| Erick Roura | Alex Saffer | Shashwat Sardesai |
| Ann Schmiedekamp | Carl Schmiedekamp | Levi Schult |
| Joey Shapiro Key | Magdalena Siwek | Sophia Sosa |
| Ingrid Stairs | Dan Stinebring | Jerry Sun |
| Abhimanyu Susobhanan | Joe Swiggum | Jessica Sydnor |
| Jacob Taylor | Stephen Taylor | Alex Tubby |
| Jacob Turner | Caner Unal | Michele Vallisneri |
| Joris Verbiest | Sarah Vigeland | London Willson |
| Caitlin Witt | David Wright | Olivia Young |
| Guangyi Zhang | Yongqi Zhang | Rand |
| Keelan | Joe Glaser |   |